Get our Veteran Owned expertise on your next project
We have a diverse group of clients; from major construction companies and government agencies to private citizens. Our employees have a large skill set which allow us to take on virtually all types of civil survey work.
We provide affordable and accurate surveys for hundreds of large commercial projects, as well as small private jobs every year.
We have the insurance, equipment, training, and certifications to work on projects from surveying, utility sweeping, staking and as-built surveys for oil, gas, power and more.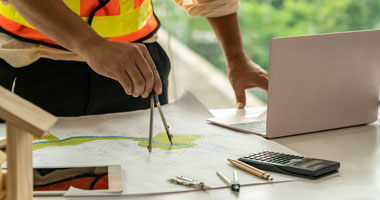 We provide civil engineering design, land development plans and stormwater analysis and design for residential & commercial properties.
"I would like to take the time to say thanks to you and your field staff at Northwest Survey for this past years work. It has been a comfort to us knowing that your team is working with us onsite to help assist in our survey and four-way sweep needs. Some projects have had very little notice to proceed and NWS has always been able to make things work. Much appreciated! "
- Cedrik G., Gustafson & Goudge, Inc.
"The entire Northwestern Survey Team have been our go to survey company for the past 10 years for multiple reasons; they are true professionals at their craft, they will travel anywhere at any time, always find time to fit us in their schedule, and the quality of the documentation they turn over is second to none. From the oil & gas industry, to the grain and industrial industry; NW Survey continues to deliver."
- Zach S., SMA Design
"I've worked with NWSE in MN and ND on utility locating and follow-up surveying services. I have only positive things to say about both office and field based NWSE staff. They offer prompt responses, good questions, and timely quotes during proposal development. Dedication to safety, project communications, and the desire for a satisfied end-client are each reasons why our partnership has been successful. A top-notch bunch of folks I hope to continue working with into the future."
- Darin, AECOM
"Amy and the team at Northwestern Surveying and Engineering are trusted members of our project teams, providing accurate, cost-competitive surveying and utility locating services. I greatly appreciate their responsiveness and willingness to work with us to meet our schedule and goals."
- Brian M., Barr Engineering Co.
"We are very pleased with the service Northwestern Surveying and Engineering provides on our construction jobsites. They are prompt and we rely on their crew for 4-way sweeps and also surveying and lay-out when needed."
- Gary V., Jensen Construction
As a Veteran owned company, we understand and support operational security concerns. As such, we don't publicly showcase some of our work. You can trust that any works pertaining to critical infrastructure will be kept confidential.
Done Quickly. Done Right.
We have been providing land surveying services for small legal surveys to large heavy construction for over 20 years.